FEALING LIN
Award winning watercolorist Fealing Lin of San Marino, California, was born in Taiwan. She is now a teacher, demonstrator, and active exhibitor.
Fealing began her journey into artistic expression as a protégé of renowned art professor, Jing-Yong in Taiwan, and subsequently pursued her career in the United States with watercolorist and senior art historian, professor Verna Wells.
With a fluidity of colors, Ms. Lin combines realism, impressionistic strokes, and semiabstract techniques to elicit life and movement in her floral and landscape watercolors. Her painting adorn the paper with both harmony and emotion.
Although briefly diverted from her passion by a family tradition of medicine and dentistry, Dr. Lin ultimately abandoned her tray of instruments and high-speed drill in favor of her pallet and brushes. In just a few short years, her paintings have been widely recognized and exhibited.
Said professor William Blackshaw, President, Royal Watercolor Society of England, "Fealing Lin paints poems that vibrate with light and color…long may she continue to delight the eyes and move the spirit."
"My passion for watercolor," says Ms. Lin, "comes from the opportunity it gives me to be totally spontaneous in the pursuit of traditional watercolor transparency which is the 'glow' from the white paper that emerges through the paint once a fusion occurs from the application of wet on wet.
An annual guest instructor at Yosemite National Park, annual exhibitor at Descanso Garden, Alhambra City Hall Gallery, as well as numerous other galleries, Fealing has been enthusiastically embraced by the general public and private collections alike.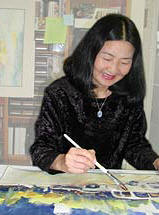 OCTOBER 8, 2003
WATERCOLOR DEMONSTRATION