STAN DAVIS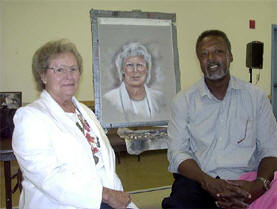 SEPTEMBER 10, 2003
PASTEL DEMONSTRATION
See the artist Stan Davis' work at AskArt.com:

__________________________________________________________________________________________
DEMONSTRATOR HIGHLIGHTS
STAN DAVIS
Professional portrait artist Stan Davis says he's probably worn out his fingerprints two or three times by blending pastels to create art that hangs throughout the United States and the world. Davis' favorite medium is pastels, but he creates and teaches in other mediums.
"A lot of people play with pastels and crayons, but they don't know what pastels can do. There's a depth to pastels," Stan says.
Davis, who grew up in Riverside, began drawing Disney characters with neighborhood friends when Disneyland opened in the 1950's. His talent was recognized, and soon, he was creating art for a living. Because of his involvement in sports, he has done portraits of many sports figures, and has had shops in Las Vegas, Old Towne San Diego, the Queen Mary, and the Monterey Warf. He spend many years working for the American Bankers Association, doing portraits for bankers and their families.
Davis completed his bachelor's degree in 1999. Besides teaching, his goal is to create scenic art for movies and TV and cultural and ethnic art. His art is displayed in many homes and churches throughout Riverside, as well as Martin Luther King High School.
"I just want to continue making art and teaching with the grace of God. I am inspired by my wife and children, says Stan Davis.