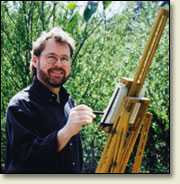 A graphic designer since 1974, Joseph Stoddard began his career developing corporate identity programs and print graphics with leading design firms in Los Angeles. In 1984 he began designing architectural graphics with SKA Design in South Pasadena and is now one of the principals. He taught graphic design at the Art Center College of Design in Pasadena from 1981 to 1994 and is currently teaching painting at the Creative Arts Group in Sierra Madre.
Although he has sketched and painted all of his life, he began painting seriously in 1987 doing primarily local architecture, urban scapes, landscapes, and historic landmarks in and around the city of Pasadena. The current interest in historic preservation through art has brought Joseph critical acclaim through numerous public showings and publications.
In addition to providing the original watercolors for the Historical Society of Southern Californiašs prestigious Community Enrichment Awards for the past eight years, he has also been the guest location artist at a variety of local history fairs and celebrations throughout the Los Angeles area. In 1995 he took the third place award at the first annual Mission San Juan Capistrano California Art Club competition.
His work has been featured in Pasadena Magazine, and he has produced cover artwork for a number of books published by the Historical Society of Southern California. Original watercolor paintings have also been produced for posters announcing various events within the city, including the Colorado Street Bridge Party, Pasadena Pops Concerts, The Pasadena Symphony, and the California Art Club Artists for Architecture Painting Project. In 2001 a book of his sketches entitled Pasadena Sketchbook was published.
He has studied with such well known artists as Robert E. Wood, Tom Lynch, Marilyn Simandle, Eric Weigardt, Ken Auster, and Henry Fukuhara.
His medium is transparent watercolor and most of his works are done on location in the tradition of early "Plein Air" artists.