KOLAN PETERSON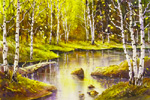 ARTIST
Kolan Peterson's love for the outdoors is reflected in the strong crisp color and creativity of his watercolors. He captures the beauty and infinite variation of nature in his compositions. He enjoys the outings with the scores of students who study with him. He brings this intimacy with the mountains, streams, trees, and birds to these painting sessions. His paint-out at Morrow Bay has become a popular annual event, and recently, a workshop at Jackson Hole has been added to his itinerary.
He is the author of two books published by Walter Foster Art Books titled "Watercolor Step by Step" and "Special Effects of Watercolor". They feature many completed works along with their step by step instruction. The books are distributed worldwide.
Kolan currently resides and maintains his studio in Hemet, California. The popular watercolorist has performed over 100 demonstrations for various art groups. He is an instructor in sketching, and beginning and advanced watercolor for several art clubs. He also conducts workshops and serves as a judge for competitive art shows.
JULY 9, 2003
WATERCOLOR DEMONSTRATION
JULY EXHIBITING ARTIST
<![if !vml]>

<![endif]>
Esther Capriotti's earliest artistic memories are of drawing dolls which she would cut out and play with. At 15, one of her teachers encouraged her to continue along the artistic path. As an adult, she deviated from art to have a career in Real Estate, which lasted several years. Resuming her quest, she has since graduated to charcoal, pencil, oils, acrylic, and is currently involved with watercolor.
In order to improve her paintings she is concentrating on a bolder use of color. She is studying, practicing, and taking workshops to facilitate creating a professional body of work. She has studied with Connie Newton, Bob Uecker, Martha Underwood, Aida Hughes, and paints weekly with Sylvia Megerdichian. She feels that they have shared with her their love for painting.
Landscapes and figure paintings are favorite subject matter for her watercolors. Influenced by her travels in Europe, and her husband's heritage, she is in the process of painting a series of Italian subjects.